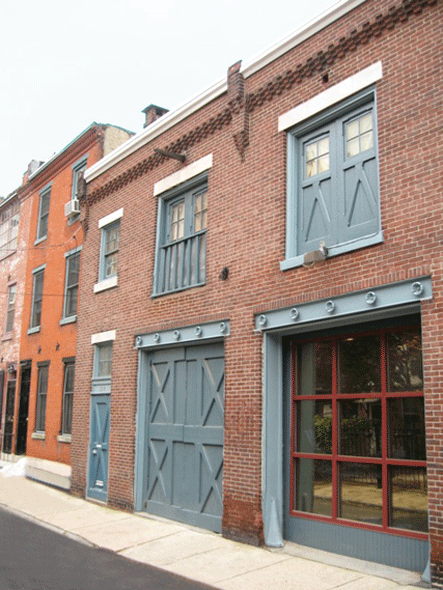 1514-1516 Waverly St. | Philadelphia | 19146
Architect: Metcalfe Architecture and Design
Built 2010; 3-bedroom, 3-bath, 4,555 square feet
Metcalfe Architecture & Design completed the dramatic conversion of three late 19th century Center City Philadelphia, PA brick carriage houses into a unique, light-filled, highly personalized artistic retreat for painter and University of Pennsylvania lecturer Joan Wadleigh Curran. Located in a picturesque Center City neighborhood, the property is surrounded by many other converted back-alley gems – the sort of neighborhood treasured by Philadelphians.
Joan hired the architect to design the space into a single dwelling, (which had been converted by an earlier resident, an architect who had offices below, and two apartments above) with her studio downstairs and open and airy living spaces above. The design features a collaboration of many players – Metcalfe Architecture & Design; Phil Johnson, Joan's long-time contractor; Joan's artist friends, and a steel fabricator.
You can see intriguing touches wherever you turn. Modern, rich colors; industrial materials (rusted and waxed steel, brick, glass); industrial light fixtures; a roof deck with views of the surrounding city; skylights and a central stair that brings light to the building's center; an elevator to assist Joan in traveling through her house – all embellished by Joan's striking nature-focused paintings and the works of her many artist friends.